Parents score as Disney pulls sexy new Merida
After getting bombarded with hundreds of thousands of complaints, the media company ditches the thinner-waisted version from its princess site.
By Aimee Picchi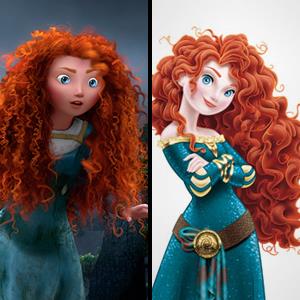 Hundreds of thousands of parents have validated Walt Disney's saying "All dreams can come true if we have the courage to pursue them."
In this case, Disney (DIS -1.77%) has listened to the more than 210,000 petitioners who complained about the sexy makeover given to the fiery-haired Merida, heroine of "Brave." The media giant on Wednesday restored the original, more realistic version (pictured, left) to its official princess Website, although it hasn't yet released a statement about whether it will keep the original depiction for the long term.
As reported Friday, parents were up in arms over Merida's sexy makeover (pictured, right) to get her ready for her coronation into the Disney princess lineup.
The original Merida was hailed as a positive role model for girls because she was independent, active and outdoorsy. She also was an ace with her trusty bow and arrow, which were removed in her princess makeover, much to parents' dismay.
That caused parents to rally a rescue effort via a Change.org petition, which criticized the new version as "making her skinnier, sexier and more mature in appearance." The message, the petition said, is "that for girls and women to have value -- to be recognized as true princesses -- they must conform to a narrow definition of beauty."
For Disney, Merida's reception is more than skin deep. The princess line -- which includes Snow White, Cinderella and more modern heroines such as Tiana from "The Princess and the Frog" -- is a $4 billion franchise, helping to sell movies, books, and paraphernalia such as pajamas and tiaras.
Still, not everyone is convinced that Disney will stay loyal to the original Merida. The character's creator, Brenda Chapman, told the San Jose Mercury News that she's waiting for final word from Disney.
"I will stay dubious until they give an official statement about changing the image to match the original version of Merida," she said. Chapman had earlier given a stinging rebuke about the makeover, calling it a "blatantly sexist marketing move based on money."
Follow Aimee Picchi on Twitter at @aimeepicchi.